Panzer Fight Stick 4 and Madcatz TE Panel - Taito Vewlix [Graphite Gray]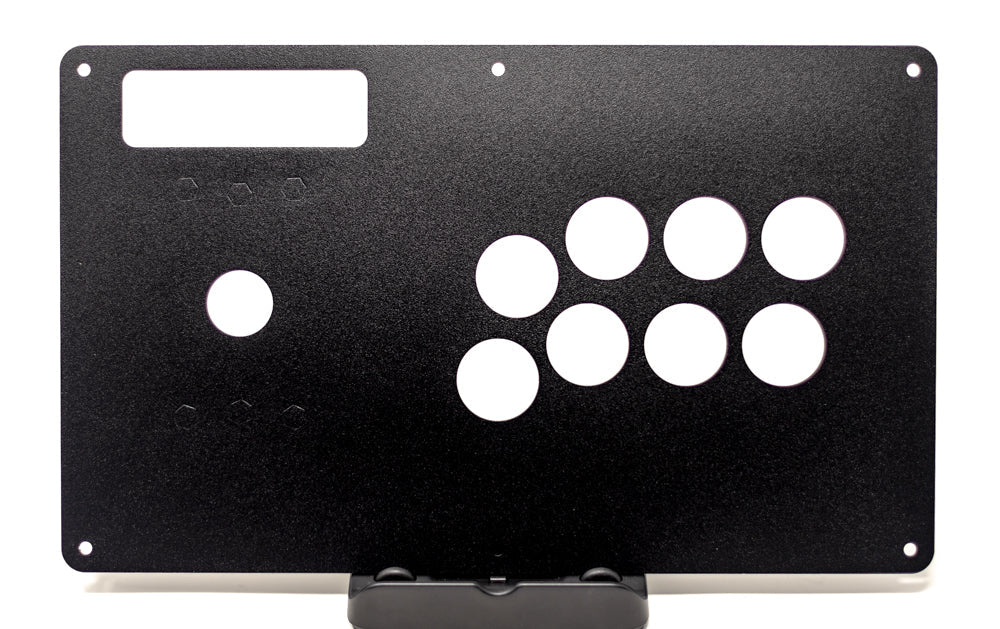 Panzer Fight Stick 4 & Mad Catz TE Replacement Panel: Vewlix in Graphite Gray finish.
The Mad Catz TE Fight Stick was a game changer and turned Mad Catz from a cheap peripheral maker into a respected one inside the FGC. It's Vewlix arcade cabinet styling influence is still beloved today and fight stick enthusiasts still use them with various mods such as our TE EZ MOD and a series of Brook fighting boards. They did evolve over time to include slight design changes (Original TE, TE Round 2, and TE-S) but each body used the same metal panel. Best yet, you could forgo the plastic bezel on the early TEs and use the same full size plexi from later models to completely change the look.
I started making Mad Catz TE replacement panels in 2016 to help people restore their beloved sticks by allowing them to ditch the rusty metal panels that plagued them over time. Now they are back.
Wait, these are the same panels used on the Panzer Fight Stick 4 as well? 
That's right! I took the great thing from the Mad Catz TE (easy panel swaps) and adapted it for the highest quality All Metal Fight Stick cases on the market. The Panzer Fight Stick 4 (PFS4) is the 4th iteration of my award winning Fight Stick series started back in 2012 as a personal project. The benefits of using the same panel for the PFS4 as the TE can't be overstated: better offerings for more fight stick enthusiasts and more panel options that come out of it. Plus it made for some interesting sub features of the PFS4 not seen in other niche fight stick makers. Not everyone needs or wants a Panzer but if I can make a great product that works with multiple products in a high quality fashion, I will. It saves everyone time and money!
Features
Steel Construction, .060″ thick [16 gage]
6-32 wide base stand offs to mount your Sanwa JLF or Compatible Seimitsu Levers
Graphite Gray Textured Powder Coat Finish
Layout
Vewlix spacing is 95mm. Standard spacing on cabinets is 59mm and considered too close for a stand alone fight stick.

Included in your purchase
1x Metal Panel
Hardware for mounting a lever as required.
Installation and Modification Notes for the Mad Catz TE Fight Sticks
Modifying these cases with new panels, EZ MODs, levers, buttons, etc. is not hard, however, due to the intermediate plastic divider in every case there may be some trimming/cutting of plastic required to install modifications and new panels. Remember, the case was designed with a specific layout (Vewlix, narrow) and plastic molds were designed around it. If you do not feel comfortable with trimming/cutting plastic do not attempt to mod your case. If you damage the case, panel, or any internal parts during the install process I am not liable. Remember, mod at your own risk and do a lot of research.
Template Downloads
Use collapsible tabs for more detailed information that will help customers make a purchasing decision.
Ex: Shipping and return policies, size guides, and other common questions.